Tough weekend at Thruxton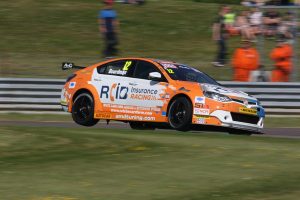 A tough weekend for Tom at one of his favourite and most successful tracks. He was again on the receiving end of misfortune and bad luck.
Free practice had looked promising but in qualification some late modifications to the set up of the car failed to pay off which left Tom on the back foot, only qualifying in 31st place on the grid. Tom again though was able to make forward progress when the lights went out in race one.
Having climbed up six places, Tom was set to achieve his pre-race goal before heavy contact at the final chicane ripped a rear wheel from his car and forced him to retire.
Left near the back of the grid for race two, Tom fought his way through to 22nd place despite not feeling at one with his car, with the team then making a number of set-up changes ahead of race three.
Immediately more comfortable behind the wheel, Tom was quicker than he had been at any other time during the day as he fought his way to 18th spot, (12th Independents) with the improved pace leaving him confident for the meetings to come and some more points in the Independents championship.
After the race weekend Tom commented
"Like Rory it's been a tough weekend. Qualifying was difficult and then race one was a disaster. There was no need for the contact that put me out and it left us with a lot of work to do to repair the car for race two.
"We made a bit of progress in that race but I wasn't really happy with the car and we made some pretty big changes for race three. All of a sudden, I felt a lot more comfortable and I think it showed in the performance.
"There is a lot we can take away from that race and I think that will give us a real chance to make some strong forward progress at Oulton Park."