Too good to be true fears prove right for Tom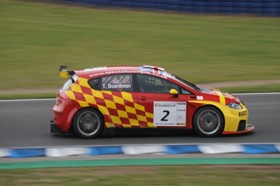 Tom Boardman thought his first appearance at the Oschersleben race circuit in Germany was going too well when he qualified his Triple R-run SEAT Leon Cupra 3rd on the grid and the car immediately ahead of him didn't start the first of two SEAT Leon Eurocup races, leaving him with a clear run to the opening corner. But Tom's fears came true as the 24-year old driver from Forton in Lancashire was caught up in a chaotic start in which several cars behind jumped the lights and caused mayhem at the first corner.
Tom quickly got to grips with the twisty 2.2 mile Oschersleben track, which is located near Magdeburg, mid-way between Hannover and Berlin. Despite only seeing the circuit on You Tube and on Sony PlayStation, Tom was quickly on the pace in his Special Tuning UK Ltd-backed SEAT Leon Cupra, setting 6th and 4th fastest in the two free practice sessions before bettering both those times with a 1:36.508 to qualify 3rd for the opening race.

When pole-sitter Norbert Michelisz (Hungary) failed to take his position on the grid, Tom had an uninterrupted view of the first corner, as he and rival Oscar Nogues (Spain) led the field around for the rolling start. Cars are not allowed to overtake until they have passed the start line, but that rule was ignored by many drivers as the large field hurtled towards the very tight opening corner. Tom had two cars alongside him on the grass at one stage and despite making a good start was overtaken by several cars well before the first corner.
Tom emerged from the unruly start way down the field, but eventually finished 7th. With the first eight cars starting Race 2 in reverse order, this meant that Tom had another front row start – this time from a more traditional standing start.
Once again Tom made a good get-away, but once again the race to the first corner proved his undoing. Diego Puyo (Spain) hit Tom's Leon Cupra hard from behind, forcing him off the road. It was a bizarre piece of driving that ruined both drivers' races. All Puyo had to do was finish behind Tom to win the SEAT Leon Eurocup meeting on aggregate and win a works drive with SEAT Sport at the FIA World Touring Car Championship meeting at Monza, but despite being told by his team to stay behind Tom his actions saw him finish Race 2 in 13th position and hand the award to Duarte Felix da Costa (Portugal). Tom limped around the opening lap with a puncture and retired in the pits with too much damage to continue.
And Tom's frustrations weren't quite over, as the organisers have given him a five grid slot penalty at the next race at Monza for colliding with Nogues – even though a puncture and suspension damage meant Tom couldn't slow down properly. He might also be justified in feeling somewhat aggrieved by that decision, as no penalties were issued to all the drivers who deliberately jumped the start of Race 1.
Tom Boardman said: "I'd never been to Oschersleben before, but it's a great track and it suits my driving style, so I was quickly on the pace. We had two very good free practice sessions and then I qualified third. When the guy who'd qualified on pole didn't take his position on the grid and I had a clear run to the first corner, I thought things were going too well – but I never expected what was about to happen.
"The start of Race 1 was a joke and the race should have been restarted. Being the first two on the grid, Oscar Nogues and I should have been able to control the pace of the start until we crossed the start line, but way before the line drivers behind had jumped the start and had overtaken us. I just got swamped by cars at the first corner and there nothing I could do about it. Somebody ran into me which bent my steering arm, so I really struggled during the race. I ran in eighth for most of the time before a car ahead of me stopped and I finished seventh.
"I started Race 2 from the front row. I made a good start and took the lead heading into the first corner when Diego Puyo used me as a brake and whacked me from behind. He's normally a cool guy behind the wheel, so it's very unlike him to get hot-headed and do something like that. That doesn't change the fact it ruined my race as well as his. There was a fair bit of damage to my car and I had to limp around the lap with a puncture and retired from the race in the pits.
"It's a real shame because my Championship challenge is over now. I've never raced at Monza and I'd like to go to there for the experience, but it's now impossible for me to win the title; and to be honest I'm gutted about that. But we'll try to finish the season on a high."

Tom will next be in action in Rounds 7 and 8 of the SEAT Leon SuperCopa, which are support races to the DTM at Barcelona on Sept 20-21.