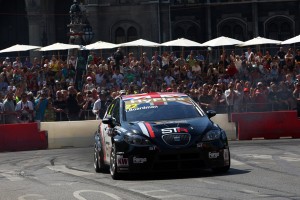 Tom Boardman spent Tuesday driving his Special Tuning Racing SEAT TDi around a specially prepared 1.6km street circuit in the centre of Budapest. The event, attended by nearly half a million motorsports fans, was to promote the upcoming WTCC weekend at the Hungaroring and also the Formula 1 event in July. Also driving was Formula One ex world champ Jenson Button in his Mclaren, Hungarian Favourites and Zengö Motorsport drivers Norbert Michelisz and Gabor Weber in their BMWs, and Pasquale Di Sabatino in the Chevrolet Cruze 1.6T.
Tom really enjoyed driving for the large crowds and certainly put on a great show for them. He commented "The afternoon was amazing. All the fans were cheering when I lit up the tyres. Its really good to be able to drive in that environment, and also around all the historic streets in Budapest. I am really looking forward now to the weekend, and I am sure the Hungaroring will be packed yet again"
More photos from the event are in the galleries section of the website.