Tom shows great resolve at Rockingham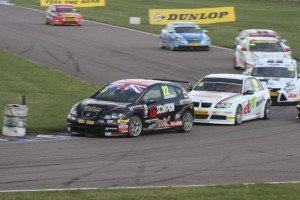 Despite a disappointing qualifying session, mechanical issues and a penalty, Tom showed great determination at Rockingham to claim two top-ten finishes in the latest round of the Dunlop MSA British Touring Car Championship.
Un-phased by his six-place penalty for an incident in the previous round at Knockhill, Tom got off to a flyer in from 23rd in race one. Steering clear of the confrontations ahead he stormed up the order, climbing a remarkable 15 places into eighth by the sixth lap.
Following the safety car deployment on lap seven, a titanic five-lap battle broke out at the restart with Nick Foster's BMW. The pair ran side-by-side and swapped places through the Deene hairpin on lap 12, before Foster eventually got the upper hand. Both drivers then closed in and quickly dispatched of James Nash, elevating Tom to seventh. But with Tom's tyres showing signs of wear, he was reeled in by Rob Austin's Audi, losing the position on the final lap to finish in eighth at the chequered flag.
"That was a manic race," said Tom. "But I focused on getting a good start, racing hard, keeping clean and getting as many places as possible. The last two laps I had no grip and Austin got past, but I can't complain at that, a top-ten finish having started from the back of the grid is a great result."   
Starting from eighth in the day's second race, Tom got another cracking start and was up to sixth by the second lap. Having pulled out a gap, he looked on course for another solid points finish when a rear wheel bearing broke and his race came to an unexpected end.
Not finishing the second race meant he would start the last race from the back of the grid again. Determined to make early ground, he made a stunning start, gaining ten places over just one lap.
Over laps six and seven he got the better of championship leader Gordon Shedden and then Foster to take tenth. But with four laps left he was dragged into a frenetic scrap for the final points finish. Determined to hold the position, Tom had to defend resolutely as Foster  made a forceful move on the back of the SEAT, but he held on to finish in a fantastic tenth place.
After the race Tom said: "I was pleased with the finish. We've shown we've got the pace again, but it wasn't where we wanted to be. The support after Knockhill has been amazing and I really wanted to be at the front fighting for another podium finish, so hopefully we can go on and do that at Brands Hatch."