Superb Opening Weekend for Tom
Tom Boardman's retur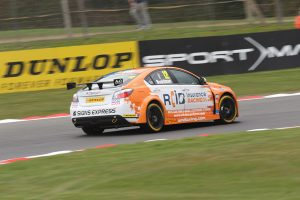 n to the British Touring Car Championship got off to a strong start at the opening round featuring the first three races of the season.  Having had little testing, and adapting to a new NGTC car, Tom was viewing the first weekend as a time to learn and re-familiarise himself with the championship. His performance and results, particularly in race two where he finished just off the podium in fourth place, showed how fast he is to adapt, and how promising the rest of the season can be.
Sponsors RCIB Insurance said "From watching the race from the sidelines the enthusiasm and 'can do' attitude from the 2 drivers is obvious. The MG6 is being thrown through corners like it's never done before and some rather well respected drivers for other teams are starting to get used to seeing the rear end of one, or both of the brightly liveried cars during all of the races."
Tom's only disappointment for the day was contact made on him early in race three which put him out of scoring even more points.
After the racing Tom commented " This was always going to be a learning weekend for us and I think we have learned a massive amount and also picked up some great results to go with it. It was my first weekend in an NGTC car so I didn't really know what to expect and the first race was all about trying to make up places and stay out of trouble.
"We made the call on slicks in race two and it was tough in the early stages before things started to dry out and to come through and take fourth place was brilliant.
"Even though the extra weight we had to carry in race three then cost us some straight line speed, I think we could have scored some more good points if we'd not been knocked off track but I'm just pleased to come away from round one with some points on the board and something we can build on."