Round 4 Oulton Park Race Report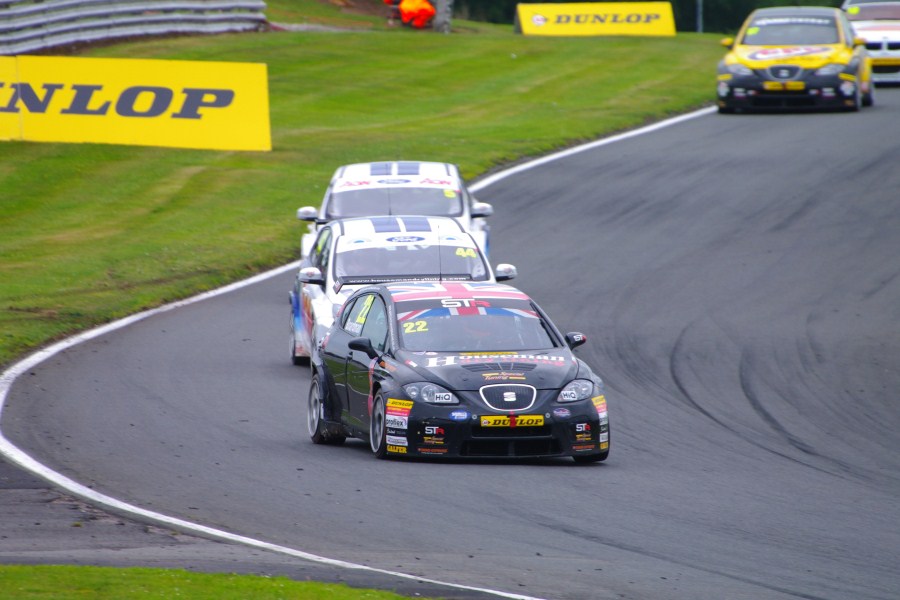 A sensational feat from the Special Tuning Racing team ensured new team-mates Tom Boardman and Dave Newsham were at the centre of three action-packed races, as wet conditions played their part at Oulton Park last weekend.
With the weather having taken a turn for the worse, the circuit was damp at the start of race one. Gambling on the track drying out though, both Tom and Dave elected to start the race on slicks, having qualified twelfth and sixteenth respectively.
As the race got underway, progress was initially hampered as it began to drizzle. Both drivers dropped further down the order, with those starting on wet tyres sprinting by.
But, by lap eight a dry line began to appear on the track and the full slicks came into play. Both Tom and Dave began charging through the field, and by lap 14, Tom was up to twelfth. With just three laps to go, Tom and Dave were lapping around five seconds a lap quicker than the rest and trading fastest laps.
Up to eighth, a potential a sixth place beckoned for Tom. But turning into the hairpin, he was suddenly side-swiped at speed by Pirtek Racing's Jeff Smith. Having clashed with Team Aon's Andy Neate, Smith spun and rejoined the circuit in reverse, shunting Tom and causing terminal damage to the car.
Carving his way through the pack, Dave ended the race in twelfth and posted the fastest lap of the race – no mean feat considering contact with a kerb in the final lap had broken his steering.
Speaking afterwards, Dave said: "First of all, I had absolutely no grip on the wet circuit and I lost a lot of time going straight on at the hairpin. Everyone began to clear off and I wondered what was going on! I realised then that everyone was on wets. But then as it began to dry I was the fastest guy on the circuit, a bit too late though unfortunately."
Tom added: "When I pulled up to the line at the start, I thought, oh dear, it's going to be a slow race! Knowing those with wets would get past, I sat it out and waited for the track to dry, but it seemed to take ages! Going round Cascades I could see the cars in front going through the chicane and I was thinking this is going to be impossible!
"But by the fifth lap though a dry line appeared and it started to come good around lap ten. Within half a lap I was on the group of cars ahead. I couldn't believe how quick I came up on them! I'd passed all those cars and just got alongside Matt Neal into the hairpin. I turned in and then bam, I'd been hit. I didn't know who it was though until I got back to the garage. Another case of wrong place, wrong time though!" he continued.
With minutes to go before race two, both STR garage doors were still firmly shut. Inside, the team were working flat out on both cars. Given the all clear though, Dave headed out to the grid, while Tom could only look on as the repairs to his car continued.
With the drizzle returning, Dave opted for a wet/slick combination and got off to a flying start. Before the safety car was deployed for an incident at the end of the first lap, he'd moved up 3 places to ninth. At that moment, the second STR garage door opened and Tom made his way to the circuit, albeit two laps down, joining the queue behind the safety car – a fantastic achievement by the team!
At the restart, Dave immediately made more progress through the field, moving into seventh. But bad luck was to strike the team again. This time it was Dave, when a front-left puncture forced him back to the pits.
Switching to wets, he returned a lap down, but as the drizzle turned to rain, the switch gave him the advantage, and he made up a position finishing 17th.
Putting thoughts of the first two races out of their minds, both Tom and Dave got off to flyers in the third race. The safety car was called out before the end of the first lap, but having started from 16th, Dave had already gained seven places to ninth, with Tom climbing 8 places from 19th to eleventh.
With the race restarting on lap four, both picked up where they left off, Dave passing the Audi of Rob Austin and Tom swooping through too, putting him right up behind his team-mate.
When mechanical problems forced Silverline Chevrolet driver Alex MacDowall into the pits, both picked up a further place. Quick thinking from both drivers saw them take evasive action as Plato and Collard tangled at Lodge Corner on lap ten. Taking the inside line, Tom gained the advantage though, moving past his team-mate into sixth. But Dave, who went out wide, also lost out to both Team Aon drivers, dropping him to ninth.
Tom then began to haul in WSR's Nick Foster. Crawling all over the BMW for the next five laps, Tom was unable to get past as Foster defended rigorously. But on the penultimate lap, an error by Foster allowed both Tom and Dave through, securing fifth place for Tom and eighth for Dave. The result was a great reward for Tom and the STR team after the disastrously unlucky race one incident. And it was a fantastic point-scoring finish in his debut weekend in the SEAT Leon for Dave.
Speaking after the third race, Dave said: "I'm happy with that considering. It was a difficult debut, but points in the bag and a top-ten finish that'll do nicely!"
Tom said: "A lot went on in that race. Starting where I was with Matt Neal in front, I thought he's got a fast car so if I can just get away with him I should have a chance. He was making the gaps and I was able to get through too. Luckily, with the incident between Collard and Plato, I was able to see everything going on. Dave went to the outside and I went on the inside and got through. Then I had the BMW of Foster in front, but I homed in and eventually he made a little mistake at Druids and I got down the inside. Even with everything that went on today, apart from the Hondas, we were on the pace this weekend which was a real positive."
Click here for the photo gallery for Oulton Park.

The next round of the Championship is at Croft, North Yorkshire, on 19 June.