Round 3 Thruxton Race Report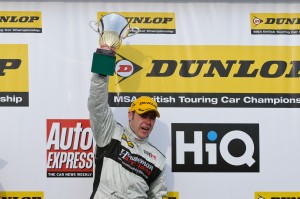 Fantastic scenes greeted a triumphant Tom Boardman as he took his first outright podium in the BTCC, having secured a convincing third place in the final race of the day at Thruxton.
It had been a mixture of excitement and anticipation at the start as Tom sat on pole position, but he proved he's got what it takes to be a top touring car driver.
"I'm well chuffed," said Tom. "It feels like a win! I'm really happy for the Special Tuning Racing team. It's frustrating when I'm not up there as they put so much work into the car over the weekend, so to get a podium and prove I can race at the front is a very special feeling for everyone."
Having begun the first of the day's Dunlop MSA British Touring Car Championship races in ninth, Tom put in another one of his trademark starts in the STR SEAT, overhauling both AMD Milltek Racing driver Tom Onslow-Cole and Pirtek Racing's Jeff Smith in the first lap.
Tom seized the initiative again in lap five, diving through to take sixth as Airwaves Racing's Mat Jackson yielded to current champion Jason Plato after the pair ran side-by-side through the final chicane.
With Jackson striking back, Tom put in a great defensive drive to keep him at bay. And with Plato spinning off with a puncture, he went on to finish the race in a fantastic fifth place.
Beginning the second race from fifth, Tom appeared to get a good start, but an engine breathing issue quickly hindered progress, and he slipped down to ninth. A mammoth slide on lap two around Goodwood corner wowed the crowd, but unfortunately, it was to cost him a further place, as he battled to keep the car on the circuit.
By lap five, Tom got the momentum and really started to turn the screws on Tech-Speed's Paul O'Neill, but it was not until lap 14 before he made it count.
With WSR's Rob Collard spinning off on lap ten, Tom gained a further spot to finish in ninth, confidently withstanding intense pressure from the chasing pack for much of the race.
Tom then got the luck of the draw, starting from pole position as the top nine finishers from race two were reversed to form the grid for the final race of the day.
However, it was a nervous start as Tom lost two places with Plato and Jackson getting the better of him by the first corner. Tom fought back, but was unable to find a way through.
Following a safety car deployment, Tom then showed immense courage at the restart, holding firm from a relentless attack by James Nash in the Triple 8 Racing car. He finished the race in a superb third place, his first outright podium in the BTCC (having taken an Independent drivers' win at Rockingham in 2009 with fourth place).
The Championship now heads to Tom's home circuit, Oulton Park in Cheshire on Sunday 5 June, with Tom full of confidence.
"We've now got a big break before Oulton Park. We'll use the time wisely and make sure we have no problems for the next race. Today was really satisfying. We've got the car where we want it and where we can finish the race competitively. Hopefully we can carry this special feeling through the remainder of the season."
Click here to view the Thruxton Gallery