Race win moves Boardman up to Supercopa second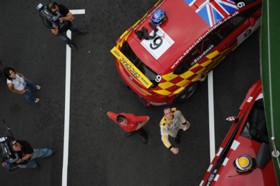 Tom Boardman has now won more races than any of his rivals in this year's SEAT Leon Supercopa, and his win at the Circuit de Catalunya near Barcelona last weekend (September 20/21), his fourth of the season, saw him move up to 2nd in the series with just two race meetings remaining.Tom qualified his Special Tuning UK Ltd-backed SEAT Leon Cupra 2nd on the grid for the first of three races. He made a great start and was soon leading the 29 car field, and during a textbook race the 24-year old driver from Forton in Lancashire set the fastest lap and won comfortably to move into 2nd place in the series.

With a reverse grid, Tom started the first of two Supercopa races around the 1.85 mile National layout the following day from 6th on the grid. As the first of the set of red lights came on, Tom selected first gear and his car jumped forward. He stopped and was stationary when all the red lights went out and the race started, but despite not gaining any advantage – he was still in 6th place at the end of the opening lap – the officials penalised him for allegedly jumping the start. The subsequent drive through penalty dropped Tom down to 21st place and after a storming drive he finished 16th.

With arch rival and Supercopa leader Oscar Nogués scoring high points for finishing 2nd in both races, all the good work Tom had done by winning Race 1 had been undone with a non- points scoring finish in Race 2. But in Race 3 it was Nogués' turn to hit problems, as a collision at the start saw the Spanish driver crash out before he'd reached the first corner.
Tom knew he had a chance to regain some points and drove brilliantly to come from 16th to finish 6th. Even though Tom has moved from 3rd to 2nd in the Supercopa standings, a net loss of three points over the race weekend now sees him 22 points behind Nogués. However, with a maximum of 43 points available during a race weekend, and with two race weekends remaining, Tom has his sights firmly set on winning the title.
Tom Boardman said: "I just couldn't believe it when the officials gave me a drive through penalty for jumping the start. The car only moved forward a little when I put it in gear, I was stopped when the lights went out and the race started and I clearly didn't gain an advantage, but a drive through penalty is not something you can protest and it ruined my race. Having already won the first race, all I wanted to have was have a good solid race, keep out of trouble and score some decent points, so it wasn't as if I was over-eager to get off the line and make a blinding start. It's been the story of my year – something real bad happening immediately after something really good!