Points gained – USA Round WTCC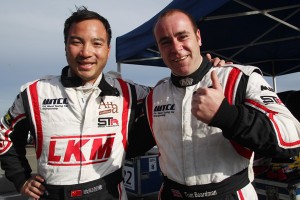 Ultimately a successful weekend for the team at the first ever rounds on U.S soil. The track at Sears Point was new to Tom but not Darryl. He had raced there before in single seaters, and hoped to put his knowledge to good use.
The team used the Friday practice session to work on the setup of the cars and allow the drivers to get to grips with the track. With the hot Californian sun beating down, the arid surroundings of the track meant a dusty surface as many cars exceeded the track limits.
On Saturday it was all about preparing for a good qualification. Things were looking good as well. The team had clearly prepared two quick cars, as Tom was the fastest independent in Free Practice 2, at one time being quickest overall. Darryl too was showing his pace and things looked positive. Unfortunately this wasn't carried through in qualification. Darryl looked to be putting in a quick lap but locked up in the last sector. Tom couldn't find the form of the free practice and both drivers were disappointed to qualify in 16th and 19th respectively.
Race one and both drivers knew they were in quick cars and could make there way up through the field. The rolling start broke early and the cars all made their way up the hill to turn two. It was incident packed as first Menu and Tarquini had a coming together forcing Tarquini wide. This kicked up dust and the following BMW's spun. Darryl got caught up in the melee whilst Tom, a little further behind, managed to come to a halt and avoid major contact. He was able to continue and ended up 14th by the end of the first lap. Darryl managed to rejoin and found himself in 18th spot. With Menu coming into the pits on lap 5,  both drivers made up another spot. Tom then tracked down James Nash and passed him on lap 7 to move up to 12th. An incident with Benanni and Coronel saw the Moroccan driver spin out and Tom pushed on to put Oriola under pressure. On the penultimate lap Oriola's SEAT came to a halt and Tom went on to finish in 10th overall, 5th independent.  Darryl got the car home in 14th, 8th independent.
Race two saw Darryl starting in 15th and Tom 17th. Tom got off to a great start driving up the left hand side close to the pit wall. He made up 4 places in this move and by the end of lap one was up to 11th.  Tom pushed on and had soon caught Alex MacDowell. Lap 4 and Bennani spun bringing out the safety car. Soon after though, Tom Coronel pulled move up the inside of Tom putting him back to 9th.  However, this was negated when Yvan Muller received a drive through penalty. Darryl was having his battles as well and was pressurising fellow Hong Kong driver Charles Ng in a great battle for 12th.  He was looking to pass him when Ng got flagged for bodywork that was hanging off the back of his car. Tom finished an impressive 8th overall, 3rd independent and Darryl 12th overall, 7th Independent.
Tom Boardman had his most successful weekend to date, and showed that he is now getting comfortable with the 1.6t WTCC engine he obtained two rounds previous. After the races he commented, "The trip to America has been a great experience.  The circuit is great and the welcome we received was fantastic! The car is getting better and better and the team prepared it perfectly. I was very disappointed with my qualifying effort and I was determined to put this right in the races. I think from where I was starting, finishing 10th and 8th is a good result. I have doubled by points in the Yokohama Trophy and want to push on now to show what I can achieve given the right machinery."
The team will now prepare for the next round of the Championship in Suzuka, Japan on the weekend of October 19th – 21st October.