In the points at Oulton Park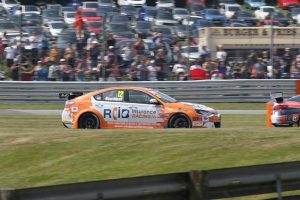 At his home circuit, Tom was left with work to do after qualifying, having posted the 30th best time. The day had been plagued with gremlins and work had to be done on race day.
A solid run in the opening race saw Tom make up six spots to finish in 24th spot although a more challenging race two saw him end up in 25th having been forced to complete a drive through penalty for being out of position at the start. He had made 8 places from the start which would have set him up nicely for race 3.
Having avoided an accident at the start of race three, Tom fought his way into the top 20 within two laps and continued to push hard to lie on the fringes of the points. He kept pressing all though the race and this paid off as Aiden Moffat ahead ran into problems on the final lap and  Tom was able to pounce to take 15th place (8th in the independents) and his second points finish of the year.
Tom is currently second overall in the Dunlop #ForeverForward Standings.
Commenting after the weekend Tom said:
"We had a few issues in practice that left me on the back foot a bit after Saturday, but I feel we came back from it well and I'm continuing to get more comfortable in the car and getting it more to my liking.
"I'm happy that we've ended the weekend with a points finish at my home race although I'm disappointed at the same time that we didn't get more. Had it not been for a small mistake on my part ahead of race two, I'm sure we could have picked up a good result there and that would be left me better placed for race three.
"I certainly think I'm getting stronger and it just comes down to time in the car. Every time we go out, we are learning and taking steps forward, so roll on Croft in a few weeks time."