#ForeverForward First after difficult Croft weekend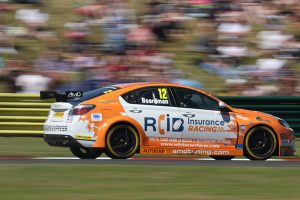 Tom was again left with work to do on race day having qualified in 31st spot, with a frustrating handling issue on his car preventing him from securing a place higher up the grid.
Having finished the opening race in 26th place, Tom was making good progress up the order in race two to sit on the fringes of the top 20 when a stone thrown up by a car ahead pierced the radiator on his car and forced him back into the pits to retire.
Starting at the back for race three as a result, Tom fought his way through to 23rd place at the finish, with the positions gained across the weekend seeing him move to the head of Dunlop's #ForeverForward standings – which is based on how many places a driver can make up across the season.
After the weekend Tom commented:
"It was a very difficult weekend for me after qualifying when we didn't have the set-up quite right on the car, and it meant I was on the back foot going into the races.
"It was always going to be tough from the back but I was focused on the #ForeverForward standings and trying to make up as many places as I could. It was all going well until the second race when a stone got thrown through the radiator which was a shame as we were getting closer the points, and I felt we could have scored before the end of the day.
"Being at the back again in race three meant I wasn't expecting a lot but we managed to make up quite a few places and pull a little result out of the back which means I lead the #ForeverForward standings but I'll be hoping to push for more points after the summer break."