Food poisoning doesn't bog Tom down at Monza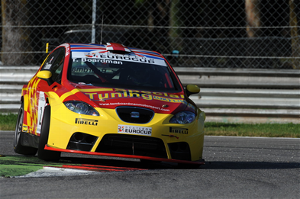 You're unlikely to see Tom Boardman in an Italian restaurant any time soon, as food poisoning interfered with his first racing appearance at Monza. The talented 24-year old driver from Forton in Lancashire did fight back to finish the final two SEAT Leon Eurocup races of 2008 in 3rd and 4th positions, despite starting in considerable pain from 19th on the grid.
Tom has a HGV licence and, unlike most racing drivers, prefers to drive his own truck to and from racing circuits. This inevitably means a few late night dinners in motorway service stations, and a plate of pork the day before testing was due to get underway at Monza crippled Tom. It's the first time he's ever been ill abroad, but with his first taste of the ultra-fast Monza circuit approaching, it could not have come at a worse time.