First TCR weekend for Tom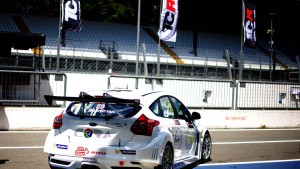 Following the previous weeks test, Onyx delivered the car to the Italian Touring car team Proteam. The car was still very much being tested and the production gearbox was unproven in a racing environment. Tom was to be at the wheel for the weekend as the team needed to build on the work done at the Brands Hatch test.
Tom completed seven laps in the morning of the Friday test session before the gear box began to cause issues. The team stripped it down and identified an issue. The team worked the rest of the day to fix it and the car went out for a shakedown lap at the end of the day. While not perfect, it was decided to carry on for the weekend and try and qualify the car for the race.
The Saturday saw Tom getting quicker and quicker in the car, but it was still very much off the pace due to the gear box. The engine again seemed strong and the car was well set up. Tom qualified the car and after the team found another issue with the gear box that was fixed ready for the races.
Tom started in 14th place for both races. After a good start he made up three places but the aim of the race was to finish the 11 lap race and prove the car could go a the full race distance. With the gearbox still very much an issue, Tom nursed the car around and managed to bring it home in tenth place and score the first ever point for the the Ford Focus TCR.  In the second race, it was a similar story. He finished 11th, just outside the points, but importantly the car completed both races.
Following the race weekend, Onyx have more valuable data from which they will further develop a solution for the gearbox which will probably be now a sequential one.