First Points in Marrakesh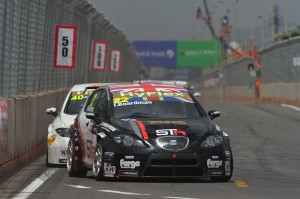 Tom knew he would be struggling for the weekend ahead. Still driving with the TDi engine, the car was 35kg over weight and 30hp down on the new SEAT 1.6T WTCC. The circuit at Marrakesh is basically two long straights, so this disadvantage would be further magnified as those with greater bhp and less weight would obviously be traveling much faster.
With much improved weather by the weekend, the team prepared the cars for the Saturday free practices and qualification sessions.  Tom posted 1:47:752 and 1:47:157 to be 10th and 8th respectively for free practice in the independents.
Qualification saw an improved performance time-wise, but Tom could not make that count enough to make the second round of qualification with the car being uncompetitive on the long straights. Tom would start from from 19th, posting a time of 1:46:562.
Race 1 on Sunday morning got off to an action packed start.  Tom got off to a good start and by lap 8 was fighting for 12th spot. However, the lack of power showed, and as the cars spread out in the race he was unable to defend his position on the long straights. Tom finished though in a very credible 8th in the independents to score his first points of the season.
Race 2 in the afternoon saw disappointment for Tom, as technical issues with the car forced him to withdraw. A great shame after his relative success in the first race.
Tom scored his first point, which considering the conditions, is an achievement. The team now prepare for Slovakia in two weeks time.