Double race win for Tom in Albacete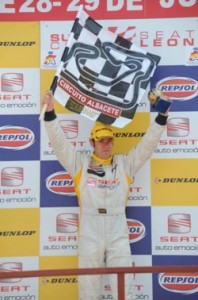 Tom Boardman has re-established himself as a title-challenger in the SEAT Supercopa after qualifying on pole, winning two out of the three races and scoring bonus points for two fastest laps at Albacete last weekend. The results elevate the 24-year old driver from Forton in Lancashire to 3rd in the Spanish series, as he closes in on leader Oscar Nogués and 2nd placed Francesc Gutierrez.
It was incredibly hot in southeast Spain at the weekend, with air temperatures of between 35- 40ºC and track surface temperatures well in excess of 50ºC. Many cars suffered from overheating problems, and Tom's Special Tuning UK Ltd-backed SEAT Leon Cupra was no exception. Having qualified on pole for Saturday's first race, Tom made a good start but was beaten to the first corner by Nogués. Tom followed him closely for five laps, but hot exhaust gases from the car ahead, combined with the already baking temperatures, saw Tom's Triple R team Leon switch to safe mode. With only 50% throttle, Tom dropped to 7th before the engine cooled down and the management system introduced full power again. Tom wanted to finish 6th to be assured of another pole position start in the next reversed-grid race, but he was forced to overtake Marin Colak as cars behind challenged him for position, as Tom eventually finished 5th.
With so many cars overheating and switching to safe mode during the race, Sunday's race day timetable was shuffled so both Supercopa races started in the morning. Tom made a great start from 2nd place on the grid to take the lead. He set the fastest lap of the race as he enjoyed an untroubled run to the chequered flag. This result determined for grid for the third race, which began after a short break with a rolling start. Once again Tom gave a copybook performance, leading from start to finish and scoring another bonus point for fastest lap.
Having won the opening round of the series at Jarama, winning Rounds 8 and 9 of the Supercopa sees Tom move into 3rd position in the series, just seven points behind Gutierrez.
The Lancashire-based Triple R team's other driver, Liam McMillan, enjoyed his best race weekend in Spain, scoring Supercopa points in all three races. The 18-year old driver from Wisbech near Peterborough qualified 14th out of 29 drivers and went on to finish 12th, 7th and 6th in the three races.
Because of the summer temperatures, the Supercopa takes a break until the end of September. However, Tom's next race will be at Estoril in Portugal, where he'll make his FIA World Touring Car Championship debut in a SEAT Leon – thanks to his recent victory in the Eurocup series at Pau in France.
Tom Boardman said: "I felt right at home at Albacete last weekend and everything worked out really well. We started from pole in the first race, but pole was on the outside of the track and whilst I made a reasonable start Oscar Nogués overtook me. I was chasing him hard for five laps before the engine temperature went up and the engine cut to safe mode. You only have fifty percent throttle when that happens, so I dropped back to seventh until it cooled down. I wanted to finish sixth to get pole for the next race, but Marin Colak was too slow and the cars behind were catching me up, so I had to overtake him to finish fifth and make sure of a front row start. After that, it was pretty much plain sailing, with two good race wins on Sunday.
"It's great that I'm going to make my WTCC debut on the back of such a good race weekend and immediately after two race wins. "
SEAT Supercopa points after Round 9
1. Oscar Nogués Farré…87pts
2. Francesc Gutierrez…73pts
3. Tom Boardman…66pts
4. Antoni Forné…61pts
5. Antonio De La Reina Marques…42pts