Boardman lines up Supercopa title showdown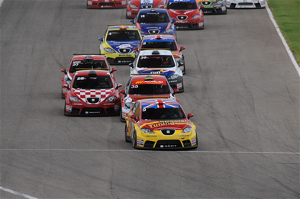 A near perfect race weekend for Tom Boardman in Valencia (September 27/28) sees the 24- year old driver from Forton in Lancashire lined up for a SEAT Leon Supercopa title showdown at the final rounds in Barcelona (November 1-2). Tom qualified on pole, won the first race, scored points in all three and gained two bonus points for two fastest laps as a dominant display saw him close to gap on under-pressure series leader Oscar Nogués with just three races remaining.
A week after winning at Barcelona, Tom took to the famous 2.5 mile MotoGP track and set pole position time on a set of used tyres. Nobody could get near him in qualifying, as every lap he did in his Special Tuning UK Ltd-backed SEAT Leon Cupra was faster than his rivals. He then put new tyres on and lapped an incredible seven-tenths of a second quicker than anyone else – a margin previously thought impossible in the ultra-competitive single-make Supercopa series.

With the opposition demoralised, Tom started Race 1 from pole, set the fastest lap of the race and won comfortably.
The reverse grid then saw Tom start Race 2 from 6th position. Now the cars ahead had a chance to block Tom's progress, yet on the twisty track he still managed to gain a position and finish 5th. He therefore started Race 3 from 5th and after setting another fastest lap finished 3rd.
Tom has won more races (five out of 15) and set more fastest laps (six), than anyone else, yet he is still 19 points behind series leader Nogués – who has scored just one win and two fastest laps, but has scored consistently well all season. With a maximum of 43 points available during a race weekend, Tom will head to the final rounds back at the Circuit de Catalunya knowing that winning the first of three races again will put the Spanish driver under even more pressure.
Having already contested six races in two weekends, Tom is now in Monza in Italy (having driven his own truck the 820 miles from Valencia) for this weekend's SEAT Leon Eurocup races. Following that, he'll return to Spain to contest an endurance race at Jerez, sharing a Team Oasis SEAT Leon with Portuguese driver Rui Chagas.
Tom Boardman said: "It was pretty much the perfect weekend in Valencia. I was really hooked up in qualifying and was on pole with used tyres. I really wanted to prove something to myself, so I put on new tyres and went seven-tenths quicker than anyone else. I made a good start in race one and managed to pull away quite easily, so that was job done and a race win in the bag. Then we have a reverse grid and I started race two from sixth. The drivers ahead didn't want to give up their positions, but I managed to move up one place at finish fifth. I started race three from fifth, set another fastest lap and finished third, which I was pleased with.
"I could not have done more than that in Valencia. I've won more races and set more fastest laps than anyone else, but the problem is that the leader of the Supercopa, Oscar Nogués, keeps on finishing races and picking up points. He didn't win at Valencia, but he scored points in all three races and I could only get the points difference down from twenty-two to nineteen.
"It's now all down to the last Supercopa race weekend at Barcelona. If I can win the first race again, he'll be under even more pressure – and if he fails to finish that first race the advantage will swing in my favour. It's still all to play for and although I go into the last race meeting lying second in the series, I'm driving well and feel confident that I can do a good job."