Bad luck thwarts Boardman at Brands Hatch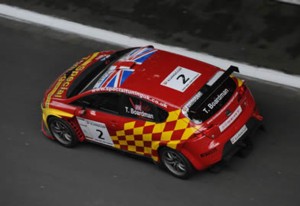 Tom Boardman was unbeatable in free practice, but bad luck in qualifying triggered a frustrating race weekend at Brands Hatch, where the 24-year old driver from Forton in Lancashire had hoped to score maximum points and move into the lead of the SEAT Leon Eurocup.
That meant that he had to start Race 2 from 15th on the grid, but once again Tom quickly moved up and was in a close three-way battle for 6th place with his Triple R team-mate Liam McMillan (England) and the winner of Race 1, Eoin Murray (Ireland). Tom eventually finished 6th to score three Eurocup points – which was a far cry from the maximum points he was hoping for at Brands Hatch.
With other competitors having problems at Brands Hatch, including Tom's main rival for the title Oscar Nogues (Spain) who finished a lowly 18th and 10th, the battle for SEAT Leon Eurocup is now wide open. Tom may be down in 5th position in the points standings, but he's only 15 points behind Marin Colak (Croatia), who takes the overall lead in the series thanks to a Race 2 win at Brands Hatch, and just six points behind 2nd placed Diego Puyo (Spain).

Tom Boardman said: "I was full of confidence going to Brands Hatch because it's the one circuit in the world that I probably know better than anywhere else. We were quickest in both free practice sessions and was on pole in qualifying when the steering broke. I'd gone over the kerb at Sheene Bend exactly the same as before, but the fourth time I went over the steering snapped and I went straight off into the crash barriers. It was a nightmare having to stand at the side of the track and watch myself slide further and further down the grid.
"There was a lot of damage and the team did a great job to get the car repaired in time for the first race. I started eighth and moved onto the tail of third when the front left tyre blew. Pitting and finishing fifteenth didn't just ruin that race, it meant I'd have no chance of winning race two either, because I'd have to start from the middle of the grid.
"We had an overheating problem in race two, so I had to keep an eye on the temperature gauge. I still had a good battle with Liam McMillan and Eoin Murray and managed to finish sixth.
"I was hoping to score maximum points at Brands Hatch and move into the lead of the series, and I think from the pace we showed in free practice we could have done it. Now we have to pull all the stops out and go for race wins at Oschersleben in Germany, which is a circuit I've never been to before. I always like to jog around a new track; it gives you a really good sense of the curves, cambers and undulations, so I'll do two laps at Oschersleben one evening, just to learn the track. Then it will be down to business to try and regain the points I lost at Brands Hatch."
SEAT Leon Eurocup points
1. Marin Colak (Croatia)…37pts
2. Diego Puyo (Spain)…28 pts
3. Eoin Murray (Ireland)…27 pts
4. Jean Marie Clairet (France)…26 pts
5. Tom Boardman (England)…22 pts

Having set the pace in free practice around the six corner 1.198 mile Indy Circuit, qualifying moved onto the nine corner 2.3 mile Brands Hatch Grand Prix Circuit. Tom set an initial pole position time of 1:35.442, and having set a good benchmark he was on course to better it when the steering broke on the kerbs at Sheene Curve. With only a small run off area and no way of steering the car away from the crash barriers, Tom hit the tyre wall head on.
The front end of his Special Tuning UK Ltd-backed SEAT Leon Cupra was badly damaged, and in the short time before Race 1 it needed a major rebuild – including a new radiator, steering rack, bonnet and front bumper. To rub salt into his wounds, Tom had to watch by the side of the track as his time was beaten by seven drivers, meaning that he qualified 8th quickest.
In very hot and sunny conditions (air and track temperatures were 24ºC and 42ºC respectively), Tom made a good start in Race 1 and soon set the fastest lap of the race (1:34.971 / 87.22mph). He was challenging for 3rd position when more bad luck intervened – this time in the form of a front left puncture. He was forced to come into the pits for a tyre stop, rejoining then race and finishing 15th.